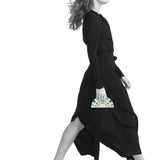 Gloria Semicircle Minaudiere Clutch - Green
Product Details
Floral perfection
Hand set acrylic resin clutch
Leather interior with patch pocket
Hidden magnetic closure
Dimensions: 8 1/2" width x 4 1/2" height x 1 3/4" depth
Handmade in Argentina
Designer Notes
Inspired by art and architecture, this collection of contemporary clutches utilizes acrylic resin as a primary medium, worked in detail, cut and set in multiple layers, facets, and curves. Created in a small atelier in Buenos Aires, each piece is a wearable sculpture of preciously executed design. With a profound respect for the past and an intent to transform it for the present, materials are sourced from industrial recycling where possible.
Your purchase celebrates the magical combination of traditional artisanry and modern aesthetics. Thank you for supporting slow fashion and the beauty of a livelihood based on the human touch. 
With proper care, this exquisite handmade piece will be a sophisticated and timeless addition to your accessory collection.
While every effort is made to ensure solid construction and durability, please be aware that acrylic resin is akin to ceramic and glass. If the piece is dropped or knocked, it will most likely crack and/or glued pieces will detach. 
To clean, gently wipe with a smooth, soft, dry cloth. Do not use cleaning agents. 

Avoid exposure to moisture as well as extreme heat or cold.
Avoid direct contact with perfumes, lotions, and hair care products. 
Store the piece in the protective pouch provided.
Materials used are fragile so use with care and enjoy!