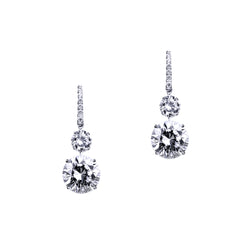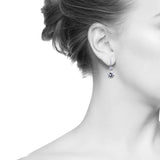 Pave Double Drop Round Earrings – 9 CTW
Expertly handcrafted, these exquisite earrings the classic pave drop earring one step further with a double drop of two round stones for an approximate 9 carats total weight.
5mm and 10mm diameter round stones.
Overall dimensions: Approximately 10mm wide x 28mm tall.
Omega backs for pierced ears.
Nickel-free. Sterling silver with palladium and finished with a platinum-based rhodium.
Proudly made in New York. 
Founded almost 50 years ago by one of the preeminent diamond setters in the United States, every luxurious piece is hand set using simulated stones of exacting cut and brilliance. 
All pieces are handmade, custom ordered and delivered within 6 weeks of purchase. Final sale. 
Have a question or a custom request? Dressing for a special occasion? Inquire here.
Your piece is hand set by experienced diamond setters and finished by highly trained jewelry finishers. It has been meticulously made to maintain its brilliance and shine under normal wear. Avoid incidental or intentional damage such as scraping, breaking or chipping the stones.
Jewelry should be cleaned periodically by steam or ultrasonic cleaning to maintain its luster.